Are you on the fence about working towards a pilates certification? If so, here are 10 great benefits that you should consider when making your choice.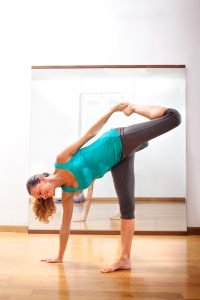 Anyone who's been doing Pilates regularly already knows all the awesome physical and psychological health benefits that come from a good session on the mat or reformer.
Maybe you've been loving your current studio classes. Maybe you've even been loving them so much that you've considered taking the next step towards a Pilates certification.
Whether you have considered teaching classes of your own or you simply feel interested in advancing your Pilates education, we've come up with some of the top benefits for getting certified.
The best part? It doesn't matter how long you've been doing Pilates. From novices to experts, we all have room to improve and grow.
Let's get into the benefits!
10 Benefits of Attaining a Pilates Certification
Lower Stress Levels
Let's be honest. We're a really, really stressed-out nation, with a staggering 75% of American adults indicating moderate to high levels of stress within the past year.
Life can be incredibly stressful and balancing all of our responsibilities, families, and work can be challenging for even the most Zen person.
Fortunately, Pilates is a natural stress reliever, and if you choose to work towards your Pilates certification, you're going to need to spend a lot of time doing it! That means you're literally putting yourself in the position to be relaxed and peaceful!
As a result, you will likely reap the awesome benefits that come with the mind-body connection, mindfulness, and stretching pervasive in most Pilates practices.
While it may be true that there's always something to be stressed about, there's always a way to cope with that stress. Pilates may just be your secret sauce. Take advantage of it!
After all, stress doesn't look good on anyone, and it's certainly not good for your present or future health.
Correct Posture & Form
Even if you've been stretching and moving your body for years, not all Pilates classes are created equally.
While some instructors pride themselves on being hands-on with their students, many students actually lack proper form and posture during their movements. This can be due to simply being new at the techniques or due to doing the wrong form for so long that it's become habitual.
Improper form can increase the risk for injury and it can actually make the poses feel harder.
Pilates certification focuses on having the correct posture and alignment. Your teachers will show you exactly how you're supposed to do each move and explain exactly where you are supposed to feel it in your body.
This awareness and education increase you having a graceful appearance and it reduces your overall risk for injury and health issues.
Meeting Like-Minded Individuals
Sometimes, it's just plain hard to make friends with similar interests as yours. As an adult, this can be extra challenging when you are busy with work and family responsibilities. Fortunately, exercise is a great way to socialize and connect with others.
What's even better than that? Learning with people who have the same passion you do! Pilates certification offers the chance to connect, learn, and even potentially build a career with people who are just as excited about this hobby as you are.
Awesome Physical Fitness Level & Strength
Being strong feels really good, doesn't it? Taking your Pilates training to the next level through seeking certification will only increase your strength, flexibility, and overall finesse. Talk about a win-win.
What's more? Increased fitness levels are often associated with increased energy, mood, healthy weight, and adequate sleep (not to mention a killer body!).
Career Change
Stuck in a career that no longer excites you? Dreading your 9-5 routine, but don't see a way out of the predictable paycheck and cubicle?
A career in yoga or Pilates just might be your ticket to venturing down a new path. Studies show that over half of American adults are unhappy with their current careers. To us, this is just an entirely unacceptable statistic.
Life's short. And, life is certainly too short to be stuck in a job that you loathe, especially when there are so many exciting options available. Maybe you just need something entirely new and different. Maybe you're ready to explore your options. Good for you- change is good!
If Pilates rejuvenates, excites, or motivates you, why not consider pursuing the financial side of things? Why not consider a career switch? It might be the greatest decision you make.
Not only will you get to help teach many people, you will also have the chance to earn a living off it. What could be better than making money doing what you love the most?
Side Income or Part-Time Work
All right, so maybe you actually love your 9-5 job. Maybe your full-time career does excite you (and we really hope that it does!).
With that said, are you making enough to make ends meet? Are you looking for a few extra spending dollars? Maybe it's time to join the 44 million Americans who currently have active side hustles and part-time work.
Pilates certification is great for this. You can work in a studio part-time, just a few days a week. Or, you can take on a few private clients and train at rates that you choose. Essentially, you can work as many or as few hours as you need.
Even if you're not interested in entirely changing careers, it's totally possible to do what you love a few hours a week- and get paid for it!
Even if money isn't a concern, this is a great way to build your skill set and be able to teach people something that you're passionate about.
Weight Loss
Anyone who has done Pilates knows that it can be an intense and invigorating workout. In fact, an hour-long session can burn up to 360 calories.
Exercise is a critical part of weight loss, cardiovascular health, and overall physical well-being. While diet may be the most determining factor of weight loss, exercise is a great way to build muscle and achieve that desirable, toned look we all covet.
Pilates certification essentially creates an exercise structure for you, as you will be required to meet a certain number of hours to successfully complete the program.
While weight loss shouldn't be the only motivation for advancing your education and learning in Pilates, we think it's a great perk that should deserve its fair consideration!
Increased Flexibility
Want to be like one your instructors and be able to twist your body into a human pretzel? We don't blame you! It's a pretty impressive feat.
What's the difference between you and them? Chances are, it's the hours of work and practice they have put into their training. It's also the education they received on correct posturing, balance, and form.
These are just some of the elements you will learn in your own Pilates certification. While some people might be naturally flexible, it is typically a skill that demands practice, attention, and d
Whether you're still trying to touch your toes or not, everyone can improve their flexibility. We think this is one of the best parts of Pilates.
Excellent Cross-Training
Maybe you're an athlete in another sport. Or, maybe you're already a personal trainer and want to expand your fitness knowledge.
Even if Pilates is not your primary form of exercise, it can be a great cross-training tool for athletes who participate in other sports or fitness routines.
Fitness experts recommend switching up workouts to avoid overusing muscles and prevent injuries. Incorporating Pilates into your workout routine will keep you strong, and it can also help fight off boredom or burnout.
One more unexpected, pleasant benefit? Don't be surprised if adding Pilates actually makes you perform better in your primary sport or fitness routine. This is because the stability and alignment that you learn on the mat can help you in all modes of exercise.
The Coveted Six-Pack
Who doesn't want rock-hard abs or a stomach they can proudly flaunt? For many of us, it's a pipe dream. In Pilates certification, however, it's an easily obtainable reality.
This is because Pilates emphasizes the core, which means it takes your traditional abdominal workouts to the next level. Pilates movements help activate muscle activation significantly more than normal crunches or sit-ups. They also focus on developing inner strength within the center core (typically missed during normal ab workouts).
In conjunction with a healthy diet of natural, whole foods, the six-pack dream doesn't have to stay a dream. Pilates can help you sculpt the body you've always wanted, and have a good, fun time doing it!
Final Thoughts
There are so many benefits for getting your Pilates certification. From weight loss and increased energy to effective cross-training and socializing with like-minded people, the choice may seem like a no-brainer.
As mainstream society is becoming more aware of the importance of fitness and exercise, we're convinced careers in Pilates, yoga, and health coaching will continue to dominate the industry.
Ready to get started on your certification and learning? Check out our extensive FAQ here. We're happy to help you every step of the way.