A career decision should not be based solely on money. However, knowing the average personal trainer salary could help you make the best choice for you.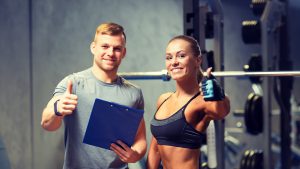 Helping people get in shape. Working with individuals to achieve their lifestyle goals.
No this isn't an impossible dream. In fact, this could be your life if you become a personal trainer.
Working out is something many folks enjoy. It's not uncommon for someone to seek a career change after growing tired of their current job.
Before you jump into the world of professional fitness, you're likely wondering what the average personal trainer salary is. Before making a commitment or worrying about how you're going to pay the bills, do a little research.
Read on to discover what a typical salary looks like for this position, and how much you have the potential to make.
How the Average Personal Trainer Salary Varies
When understanding a personal trainer's salary, there are several factors that determine how much they make. These include:
If they bring a client base with them
Where in the world they are located
If there is a demand for what they offer or specialize in
What they are skilled in, and how many types of certifications they offer
Many personal trainers find themselves constantly learning on the job. If you want to create demand for what you offer, do some research.
You'll likely need a personal training certification. Consider other certifications such as:
Group instruction
Teaching specific style of classes, such as Zumba
Nutrition
The more you offer a gym, the greater your chances of gaining employment and getting a higher wage than your counterparts.
You must consider the area you live as well. If you plan on working in an area that focuses heavily on appearances, such as Los Angeles, expect to find more opportunities and a higher salary to go with that.
Although the salary varies far and wide, doing research allows you to pinpoint what is offered. You can choose to add to your education or live closer to an area that has greater demand for your field.
Understanding the Hourly Earnings for a Personal Trainer
Personal trainers vary in their earning. There are a few ways to be employed as a personal trainer. The choice offered is either an employee or independent contractor when it comes to working in the fitness world.
Hourly earnings for personal trainers vary between hourly rates in the teens, to $20 or more per hour. There is a difference when calculating the benefits between employees and those who work independently.
Make sure to consider these pros and cons when taking into account the average personal trainer salary.
Employee Benefits
Employees should calculate the benefits they earn with their hourly salary. This may include factors such as:
Health, dental and vision
Free gym membership
Discounts for gym programs or memberships
Taxes are taken out for you
When considering the average personal trainer salary for hourly employees, make sure to calculate these factors with them. This may raise your overall hourly wage to a rate that is acceptable to you.
Independent Contractor Considerations
Independent contractors don't get all the benefits most employees do. They are some things that make this the ideal job, depending on your personality.
You get the full hourly rate, with no taxes taken out
You can write off expenses related to your work
The option to set your own hours and work when the gym is open, on your own schedule
Before dismissing what the salary is, consider these pros and cons. Determine which is best for you.
The Yearly Average Personal Trainer Salary
Some individuals are paid a set amount every pay period. Typically, a yearly salary is something earned after you have been sought after by clients.
Gyms typically bestow this type of salary when clients are:
Booking packaged classes that go on for several weeks
Asking for you by name
Before you accept an offer, research what trainers are normally paid in your area, and dependent upon what you are offering. Someone who is highly educated in a field may be a rarity.
If this describes you, make sure you're paid accordingly. The last thing you want is to be taken advantage of by making less.
When getting the most out of the average personal trainer salary, look for employment in specific organizations. Community centers and normal fitness clubs pay less than resorts or even your own private studio.
Working in exclusive organizations increases your earning capabilities. It looks great on a resume too, and shows both clients and gyms how in-demand your services are.
Ways Trainers Can Increase Their Salary
If you want to expand the average personal trainer salary, and earn more, determine what ways are best to increase your income. One way to do this is get certified in additional forms of teaching.
Consider elite levels, such as becoming a master trainer. This gives your clients confidence in your abilities to help them. If the gym you work at doesn't have a master trainer, this is an ideal time to re-negotiate your salary.
Other ways to expand your salary include:
Working with children in a fitness setting
Offering trendy classes that folks find interesting like yoga or certain dance styles
Making yourself available for specific coaching as related to fitness, such as weight management or nutrition
Consider making yourself available for hire outside of the gym. If you don't carry insurance, you'll need it.
However, you'll keep more of your money, since you aren't renting space or working with a wage the gym determines acceptable.
When in doubt, consider applying to a new gym or fitness center. You'll be viewed as a new and valuable applicant, rather than a current employee trying to obtain a different salary.
How Working as a Personal Trainer Offers Benefits Outside of Money
Choosing to work in the fitness industry is something people do for more than just money. Making a difference in the lives of others, and showing them how to live healthy is a deciding factor for many trainers.
Here are some of the ways this career goes beyond the average personal trainer salary, in terms of the benefits offered.
Work That Is Exciting and Varied
People who get tired of going to work and sitting at a desk day after day look for work that changes. Every day you'll see new clients.
Because you work with people who have different needs, your exercise plan will vary. If you consider yourself a multi-faceted person and want to work on different things, this career allows you to do that.
You Have Control Over What You Work On
With most jobs, you have no control over the type of work you do. Working as a personal trainer is a different experience.
If you only want to teach group classes, that becomes your focus. If you want to serve only clients who train for marathons or bodybuilding shows, that's up to you.
Unlike most jobs, working as a personal trainer allows you to pick if you're working as an employee or a contractor. Depending on your lifestyle and what you want, you can go back and forth.
Doing so enables you to find the ideal work/life balance.
Expanding Your Offerings is Simple
In this career, it's easy enough to open the doors and find more work. Being certified in one discipline related to fitness isn't enough for some folks.
You can gain certifications in other specialties that are in demand. These include:
Aerobics
Yoga
Boot camps
Pilates
When the subject you originally started teaching becomes too dull for your tastes, picking up a new one is simple enough. This is essential when rising above the average personal trainer salary.
Additional certifications are affordable and make you a valuable asset to any fitness community.
Learn How to Make the Most of Your Potential Salary
It doesn't matter if you are in the middle of a career change, or you can't wait to start working. Whatever your plans are, you can rise above the average personal trainer salary with a little bit of help.
Check out the variety of certifications we offer, to help you make the most of your career. Contact us if you have questions about getting started.
No matter where you are in your career, or what you want to achieve, we are here to help. Through our certifications, we will help you make the most of your career in fitness.
Live the life you want, and make a difference helping others. See what personal training can do for you and your community today.