Finding a personal trainer job with no experience doesn't have to be difficult. Click here to find out how to land a training gig right out of the classroom.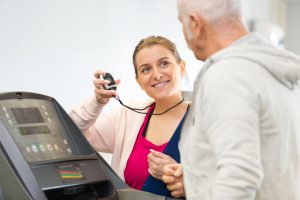 The quest for your first personal trainer job can be challenging. But as motivators, personal trainers know anything is within their grasp if they can just figure out how to do it.
Still, it can seem almost impossible to find that first gig. You may not know where to get the necessary certifications, and if you do, you won't know where to find jobs and people to work with. You may also have trouble finding ways in which you're unique and can benefit potential clients.
That's why you should read on. We're giving you advice on how to get certified, carve out your niche, find clients locally, and take advantage of your connections to make new training clients. Follow this advice and you'll be well on your way to getting that gig.
Get Certified
It is impossible to get a personal trainer job unless you're a certified as a personal trainer. Having a certification is the difference between your clients seeing you as a trainer and not just a fitness enthusiast.
Without a certification, you will not be taken seriously. And that means you will be left entirely unable to compete in an industry that's all about reputation.
A certification is something your competitors are able to point to so people feel at ease hiring them. So if you don't also have a certification to show people, you're already getting left behind on your job search.
Before you follow any other tip, make sure to get your personal trainer certification.
Look For a Personal Trainer Job At the Local Gym
There are two ways to use the local gym to find your first personal trainer job: see if you can find any jobs at the gym itself. If that doesn't work, ask people working out at the gym if they need a trainer.
Many gyms are looking to hire personal trainers. Training sessions are a popular way to encourage people to sign up. Personal trainers are also a premium service at gyms, something that might lead customers to buy upper-level plans.
Group fitness trainers are particularly in demand at gyms. If you're qualified to teach group courses in aerobics or strength, you'll be more likely to find a job at your local gym.
If you're looking to be hired by gymgoers, be aware that many gyms may have policies against marketing there. The best thing to do is use the gym as a place to talk to other fitness enthusiasts. Finding someone with similar interests is a great way to start a conversation that could lead to a personal trainer job.
Use Job Boards
Finding a personal trainer job is different than finding most other jobs. However, that doesn't mean that the same technology other people use to find their jobs can't be useful to you.
Using websites like Monster, Craigslist, and Indeed are great ways to find jobs in personal training. You can search by location and by your specialization, making it easier to get the jobs you need.
Remember that you can use technology. Use it to get ahead of the curb in your search for a personal trainer job.
Find Your Niche
People go to different personal trainers for different reasons. Although visiting a trainer can help anybody achieve their goals, winning a power-lifting competition and running a marathon are two very different goals. As such, they require different training styles.
You should be competent in multiple categories of personal training. Strength, aerobics, and stretching each constitute important parts of any trainer-led workout. But beyond doing this, you need to find where you can most benefit your clients.
Make your niche your selling point.
Some good examples of personal trainers with a strong niche are martial arts instructors, pilates instructors, and strength trainers. A martial arts instructor might be competent at cardio training, but have their expertise in martial arts and use that as a selling point for clients with very specific goals.
You should choose your niche based on the combination of your experience, your background, and current fitness industry trends. For instance, due to classes like SoulCycle, there's been an increased demand for indoor cycling trainers.
Getting a certification in indoor cycling and looking for jobs and clients in this field is a great way to find a personal training job quickly, but that still might depend on where you live.
Look for what the requirements are to get a certification in different niche fields. For most things, like yoga training and pilates, you can get an online certification most places. But some organizations, particularly in martial arts, have governing bodies that require you to advance through "belt levels" or another equivalent ranking system.
If you're looking to get a personal trainer job through your niche and want to know what that niche should be, ask yourself the following questions
Were You Ever Competitive In a Sport?
If you want a niche personal trainer job, past competitive experience in a sport is a great way to find a niche and show people your record in the sport.
If you were competitive in high school or have an impressive NCAA record in sports like tennis, basketball, or football, you can easily build a reputation as a trainer who knows what skills would benefit athletes. This could mean being a tennis instructor, or it could mean knowing which conditioning routines benefit tennis players.
What Do You Emphasize In Your Own Fitness Training?
If you're a personal trainer, you have your own fitness routine. So if you're looking for a way to define the niche you look for your personal trainer job in, you should consider what you emphasize in your own fitness training.
If you like to run several miles a day, you should build a niche helping people build up cardio endurance. If your favorite part of working out is bringing up the numbers on your squat or bench press, you should look for a job as a strength trainer.
Either way, you can find a personal trainer job based on the way you like to train yourself. Everybody has a different body, so your workouts will be tailored to the client. But if an exercise has helped you achieve a goal, it will probably help your client.
Do You Want to Teach Individuals or Group Classes?
This doesn't have to be a one or the other option. You can absolutely teach both individuals and groups, but what you find your niche in does impact what the ratio will be.
For instance, if you have a personal trainer job as a yoga instructor, you probably will be teaching more group classes than individual clients.
If you're a strength trainer, on the other hand, you probably will be teaching more individual clients than group classes due to the personalized nature of strength training and weight lifting.
We can provide examples, but we can't tell you what your niche should be. But we can absolutely tell you that you need one.
Talk to Friends
If you're a fitness nut, you probably already talk about fitness and working out to your friends. But did you know that talking to friends is a great way to find a personal trainer job?
You have to do it the right way, obviously. The key here is talking to them not as a salesperson but as a person. If your friends trust you to provide them with workout tips and advice, let them know they can hire you as a personal trainer.
Hopefully, they'll think your advice is worth it and bring you on board. If not, still give your friend fitness advice and know that if they ever do consider hiring a new personal trainer, you'll be in the front of their mind.
If you do get a personal trainer job through a friend, it's important to treat them as a normal client. Charge them the same rate per session and don't give them sessions on credit. Budget time for them as you would with any other client, and make sure they don't start taking priority.
Friends are friends, but they are also customers when you train them. Remember that this is a business transaction, not a favor.
Treating this as a favor you do for your friends can be incredibly damaging to the running of your business. Remember that you have responsibilities to yourself as a personal trainer just as much as you have responsibilities to your friends.
Conclusion
As intimidating as the search for your first personal trainer job can be, it's easy if you take the right steps to find interested customers within your niche.
Remember to get certified, market yourself locally, have a niche, and take advantage of the connections you've already made.
Being a personal trainer is exciting. It's a great way for a fitness enthusiast to own their own business or just find a job doing what they love. If you follow the tips above, you should be well on your way to being part of that world.