Get Ahead in the Personal Training Business
Personal training is a rewarding career that allows you to bring out the best in people. Check out these tips to jumpstart a personal training business.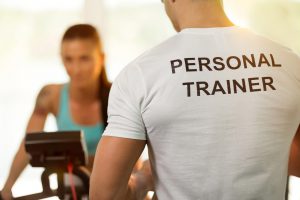 You go into the personal training business because you love helping people get and stay fit.
But it's important to realize that to be successful in any business, you must wear lots of hats. To crush the competition, you need to know how to develop a plan, brand yourself, build client relationships and position yourself in the industry.

If this seems like a lot, it is. But not unlike when you work with clients, you're going to identify your strengths and weaknesses, set some attainable goals and get to work being a phenomenal success.
In this article, we'll explore 9 ways to crush it in the personal training business.
Have a Plan
In the personal training business — and any business — you need to start with a plan.
It doesn't matter if you're a one man or woman show or you're starting a small personal training business.
Nearly 55% of new businesses fail. Not having a plan is the #1 reason for this failure.
But your personal training business won't be one of them. You have a solid plan to crush the competition.
Familiarize yourself with how to develop a strong business plan and learn about the tools you need to start a business.
A basic business plan includes:
Executive Summary – summarizes the plan
Company Description – who are you
Products/Services
Marketing Analysis – who your target clients are, size of the market, projected growth, who the competition is and what they're good at
Strategy and Implementation – outlines your marketing strategy and how you'll run the business.
Organization & Management Teams – who's doing what, what are their backgrounds
Financial Plans & Projections – How much money do you have to start your business? What are are your costs for start-up and operations for year 1, 2, 3?How much do you make per client? What are your projected profits?
The presence or absence of a strong business plan can make or break a personal training business.
Narrow the Target
One of the biggest mistakes that those in the personal training business make is having a much too wide target.
They reason that since they're new to the biz, money is money and a client is a client. They don't want to exclude anyone.
But they should.
In any business, those who try to appeal to everyone appeal to no one.
People are looking for a connection in life. They need to know why your personal training business is better for them than another.
You demonstrate this by connecting with a target. You can only connect with a target if it's narrow enough to know what matters to them.
Which leads us into our next point.
Create a Client Avatar
A client persona, also called a customer avatar, allows you to connect with a person rather than an idea through your personal training business.
Based upon your narrowed target client, you'll create a representation of your ideal client.
You'll find a great stock photo to give your client avatar a face.
You'll give this person a name.
Then you'll fill out this person with:
A job
Income
Interests
Marital Status/Children
Concerns
Hopes & Dreams
Favorite TV shows
Favorite Music
Where they go for information
And so on
Now, whether you're developing marketing content or making a business decision, think about how this person will perceive it.
Create a handful of avatars who will become a very real representation of what clients you want to work with.
Tell a Story
In the personal training business, you are your own brand. People buy into you, who you are, where you came from, what you've accomplished and overcome.
Maybe your life has been relatively uneventful. But we all have a story. Take something ordinary and make it extraordinary to connect with your client avatars.
Your goal is to develop a brand story that's true even if you embellish it a bit with creative flair. You're not trying to get caught in a lie.
What in your past would relate to this target client?
How does this story relate to the brand you're trying to build?
Develop an angle in our story like:
Before and after
Overcoming obstacles
Battling body-shamers
Facing fears
Heartache of losing someone to a preventable disease
A promise or lifelong wish
Elite Special Forces (if it's true)
Winning a major competition (again, if it's true)
Tell your story, relate back to your story and make your story a part of your brand. Your story made you who you are today. It should represent what you've become.
This story is why you're better than anyone in the industry when it comes to:
Relating to your target client
Helping your client get the results they're looking for
Getting referrals from clients who have friends similar to them
Learn Some SEO
By now, most people have some basic understanding of what SEO is. It helps you rank higher in search results when a potential client enters a phrase like "hire personal trainer" into a search engine.
Even if you decide to hire out, having some understanding of SEO will help you succeed.
Ultimately, SEO is about positioning yourself to be seen at precisely the right time by the right people.
Accomplish this by:
Having a website that's fast and ultra user-friendly
Providing online content that aligns with your brand and helps your target client
Targeting — with your content — the phrases that potential clients are using to find services like yours.
Every entrepreneur in the digital age should learn some SEO techniques.
Work That Competitive Advantage
What's your competitive advantage.
It could be your price, but if you're a small personal training business, chances are it's not.
Consider what you do very well and promote it.
Maybe you:
Have lots of experience working with kids
Have developed a strategy to help those of 50 reach and maintain their goal weight
Have a degree in nutrition
Figure out what makes you unique and better than the rest. Then promote in a way that will appeal to your target client.
Adapt Something Old for Someone New
Every successful personal training business needs their own niche. This should be something no one else is doing. And it should translate well with your target client.
This niche will become an important part of your competitive advantage and will determine how you brand your personal training business.
You may already have some amazing ideas mulling around about what this niche should be.
Or you have no idea where to start.
So we're including some instances where fitness brands transformed an old idea into something new.
Zumba – Latin dance has been around forever. Zumba developed a brand around these high energy dance moves, turning it into exercise routines we can't resist.
Goat Yoga – The maximum control and fluidity of yoga combined with the unpredictability of live goats.
Chair Yoga – The healing benefits of yoga made accessible to those who are chair confined due to health or advanced age
Crossfit – A total body workout that ends the argument once and for all: which is more important cardio or strength training?
Contemporary Pilates – No offense intended to the Pilates loyalists. But for many, contemporary Pilates takes a more rigid and rote, traditional workout and makes it dynamic and fun.
Build Trust
Building trust has many facets to consider:
Quality Service
Right Price
Getting Results
Understanding how to motivate others
Meeting your own goals
Customer service (returning calls/texts, punctuality, etc.)
Brand Image
Work to build trust with each client individually by doing what's right for that client. Then take that trust out to the masses.
How do you do this?
Allow clients to tell their stories through user-generated web content for your site like: Sam's Story: A Journey to Overcome Diabetes or Jan's Story: Getting Fit at Any Age.
Ask clients to participate in the making of professional testimonial videos.
Be social on social media to encourage people to share with others both website content and their stories. Develop and execute a social media strategy.
Back It Up With Credentials
You need credibility in this industry. What you know can only take you so far.
Having additional certifications to verify what you know will provide you with that extra level of credibility you need to gain the trust of prospective clients.
They can help you distinguish yourself in a highly competitive industry.
How much more might you appeal to your target if you're not only knowledgeable but certified in:
You can take these additional certifications and build your brand around them to appeal to the right clients.
Take Your Personal Training Business to the Next Level
Are you ready to learn more about crushing the competition? Get informed. Fill your business gym bag with the tools you need to succeed.
Expert Rating Solutions is an ISO 9001:2008 certified company. That means we meet some of the highest standards for quality that exist on the planet.
If you'd like to learn more about how we can help you succeed in the personal training business, contact us today.